ABS (acrylonitrile butadiene styrene) and PVC (polyvinyl chloride) are both plastics used as drain pipes, waste lines, and vent pipes. When comparing ABS vs PVC pipe, each has it's advantages and disadvantages.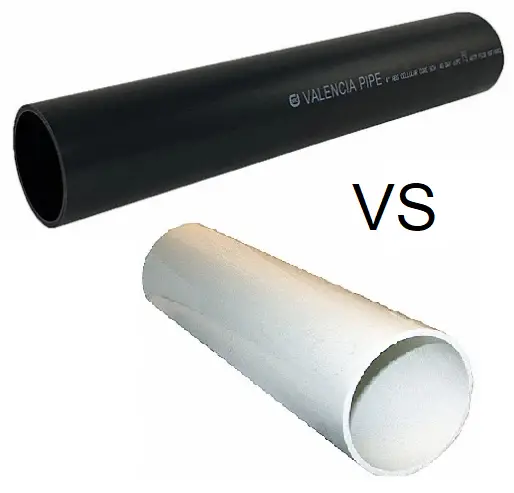 Building Code Restrictions
Some building codes specify using one type of pipe over the other so make sure to check your local building code first.
Cellular/Foam Core vs Solid Core
You may see PVC or ABS pipe being sold as "cellular core" or "foam core." This type of pipe is not solid. It is made with an inner PVC/ABS skin and an outer PVC/ABS skin with a foam/cellular core in between.
This type of PVC/ABS is cheaper and lighter than solid core pipes but is also less stiff and not as strong.
In this article, we will compare solid core ABS vs PVC pipe.
ABS Pipe
Black in color
Solvent cement only needed for joining
More shock/impact resistant, especially at colder temps
Easier to cut due to lower density
Home Depot 4″x10′ Schedule 40 solid core ABS specs*

OD 4.5″, ID 4″
14 lbs
176F max working temp
Not rated for pressurized uses
$18.87 at Home Depot (3/21)
PVC Pipe
White in color for most applications
Primer and solvent cement needed for joining
Slightly more chemically resistant
More flexible
Slightly more soundproof due to higher density
Home Depot 4″x10′ Schedule 40 solid core PVC specs*

OD 4.5″, ID 4″**
20.55 lbs**
140F max working temp
220 psi rated pressure
$20.71 at Home Depot (3/21)
*Note that the example specs given above are only for one type of PVC and ABS pipe. It doesn't mean that all ABS pipe isn't pressure rated, for example.
**To calculate different weights and diameters for different schedule and different nominal size PVC pipe, check out the PVC pipe diameter calculator.
After all is said and done, there isn't a huge difference between PVC and ABS pipe in drain, waste, and vent applications. PVC is definitely the more common of the two. But, as long as your building code allows it, either should work fine.